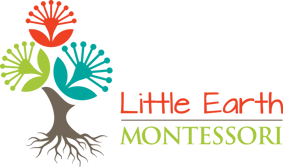 At Little Earth Rosedale, the children learn using Montessori equipment and resources designed to promote independent thinking.  We have a practical life and sensorial room, as well as a language and numbers room, which also has science and geography sections.  Our generous outdoor environment is ideal for outdoor adventure, with vegetable gardens to take care of and explore. This includes an amazing fruit orchard which grows grapes, apples, oranges, olives, blueberries and many other fruits.
Little Earth Rosedale is a rich environment, we foster all areas of development. Our children learn language skills through a carefully structured phonetic approach to reading and writing.  They learn practical skills, such as caring for the classroom, pouring water and setting tables. They develop observation skills through sensorial learning, and cultural sensitivity through our 'whole world' view to build understanding of other countries and cultures.  Mathematics resources encourage learning from the simple to complex, concrete to abstract.
Little Earth Rosedale children are readily identifiable by their love of learning, their sensitivity to nature and readiness for life's challenges.
Contact us to arrange a visit, we'd love to show you around.
Centre Information
Centre Hours
Opening hours 8.00 am – 5.00 pm
Attendance: Children attend daily
Short days 8:45am- 3:30pm (Our after hours care programme operates after 3.30 pm)
Full days 8.00am - 5:00pm
We close on public and statutory holidays.
Ages Catered For
Age: 2 - 6 years.
20 hours ECE subsidy
Centre Capacity
Roll:  45 children
"When we were looking for a Montessori pre-school for my son we found Little Earth Rosedale, and upon inquiring they were extremely helpful and friendly. After coming for a first visit we were instantly convinced it was the right choice and we have had no regrets in our decision."
"Little Earth Rosedale is a lovely environment for the children and every time I pick up my son I experience a friendly reception from all the teachers and I have found them very understanding and supportive."
"We receive regular communication and wonderful updates on our son's progress including great photos and information on his current learning so we feel involved in his day to day activities. We absolutely recommend Little Earth Rosedale to other parents."