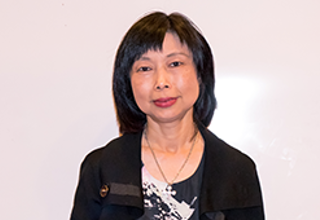 Lim Chong, Centre Manager
What inspired you to become an early childhood teacher?
Ever since I was young, I have been fascinated to learn about the development of young children, but I think the decision to study and become an early childhood teacher really came about after I became a mum and when my son went to preschool.  He had so much enthusiasm for learning and looked forward to going to preschool every morning.
Why have you chosen Montessori? 
We tried out several early childhood options, but it was only after my son started going to a Montessori preschool that he became settled and loved going to preschool. The children in the Montessori school were calm even though they were busy and seemed very engaged in all the activities they were doing. I decided to research into the differences between Montessori and other ECE approaches to find out why it is so effective and why my son loved the environment so much. As a result of my research, I became convinced that the Montessori approach to education provides the best learning environment for children.
How does the Montessori style of teaching benefit children?
Maria Montessori was a doctor before she became an educator, so her approach to education and the methods and materials she implemented were all scientifically based and designed to support children's natural developmental needs.
In a nutshell, the fundamental goal of the Montessori approach is to support every child toward achieving their individual potential.  In order to do this, it is the role of the Montessori educator to guide each child to attain independence and to learn how to learn.
How long have you been working in this sector?
I have been an ECE teacher for more than 10 years.  I used to work in ECE and IT concurrently.  I left my IT career behind when I had the opportunity to convert a centre into a Montessori school.

What do you love most about what you do?
Being centre manager enables me to exercise all the skills I have accumulated over all my previous career experiences. I love seeing the transformation of children as they learn to be independent and motivated to learn.  I love collaborating with teams of teachers (staff and other educators) to turn ideas into effective learning environments for children.
What makes your centre special?
We are one of the few Montessori preschools that caters for children from infants to 6 years of age. We are also developing a music emphasis to compliment the Montessori cultural curriculum.
What is your personal ECE philosophy?
I believe that every child can be empowered to be independent and to follow their innate desire to learn and grow to be confident and respectful individuals.  In order for this to happen, they need an environment that supports their development according to their stage or plane of development.
ECE in partnership with parents and whanau should be the foundation of development of the whole child – physical, emotional, social and cognitive skills so that the child is ready to take the next step in their learning when they move onto the next plane of development.
What do you like to do in your free time?
I love watching movies, skiing and travelling. Retail therapy is what I do to get inspired – everything from op shops and antique shops to charity organisations and the occasional fashion outlet.
Diploma in Montessori Teaching (0-6), Bachelor of Education – ECE (Montessori), Post Graduate Certificate in Digital and Collaborative Learning
more