Introducing Little Earth Montessori
Toward the end of last year, we took on the exciting task of creating the first sub-brand for Evolve Education Group. At the time, there were only four Montessori centres across the country, and Lollipops Educare Remuera was being transitioned to Montessori. After a few months of consultation with our Centre Managers, we feel the result is an inclusive, holistic approach that encapsulates both what Montessori stands for and what we aspire to achieve.
The name Little Earth Montessori
Defining a vision for the centres that comprise Evolve Educations Group's Montessori sub-brand was a major element in the brand definition process. The resulting paragraph laid the foundation, along with other elements, for a name that would resonate with parents and teachers: Little Earth Montessori aims to be acclaimed and respected as a provider of superior early childhood learning. Little Earth Montessori children are identifiable for their courageous love of learning, and for being ready to hit the ground running when they reach school age. A child that fits this profile and benefits from a courageous love of learning will shine, that child will have every opportunity to thrive.
Our Tree
"The land is where our roots are. The children must be taught to feel and live in harmony with the Earth." – Maria Montessori
Numerous Montessori schools and early childhood care centres embrace the tree as a powerful symbol of the Montessori philosophy. The "giving tree" and "learning tree", feature frequently as narrative terms or as names for centres, and the sense of growth, place and environmental awareness that tree symbolism imparts to an audience is easily recognisable.
Drawing on the established visual cues, we created a direct link between an international symbol and the undeniably local resonance of New Zealand's own Pohutukawa.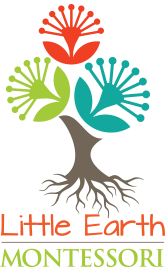 Our centres have been renamed as follows:

Little Earth Montessori is now Little Earth Montessori Kapiti

Lollipops Educare Remuera is now Little Earth Montessori Remuera

Maru Montessori is now Little Earth Montessori Rosedale

Queenstown Montessori is now Little Earth Montessori Queenstown, and

Young Montessori is now Little Earth Montessori Mount Wellington.

Havelock North Parent and Child is now Little Earth Montessori Havelock North.

)